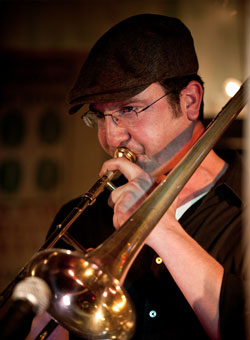 Trombone, Vocals (USA)
Kevin Hyde, a native of Stone Mountain, Georgia, began his musical career under the instruction of his father Darrell, and the great jazz educator, Melvin Hodges. Originally a trombone player, he was urged by Hodges to develop skills on the piano as well. This, in addition to the unconditional love and support of his family, would lead Kevin to find his life's passion in music.
He began playing professionally at the age of fifteen, performing at the Elk's Lodge with his father on bass and guitar, and childhood friend, Darren Stanley on the drum set. The three would play jazz for "Happy Hour" in this smoke filled hall normally reserved for bingo and billiards. Not exactly the place you would expect to find two aspiring young high school musicians, but it would prove to be a fond memorable experience that would be the start of his musical career. His father recalls "that deer in the headlights look" from his son, but it didn't take long for him to adjust to being on stage.
For the next several years, Kevin would make his home in Athens, Georgia, attending the University of Georgia, where he would find many outlets to explore the world of music. Through a tight network of musicians in this great music town, and an influential group of teachers and mentors, including Phillip Jameson, Steve Dancz, Fred Mills, and Sammy Nestico, he began to take advantage of the endless opportunities music can provide. Early on, he played trombone in many groups such as the 1996 Atlanta Olympic Band, the Disney World All-American College Band, and the American Wind Symphony. However, as time went by, Kevin began dividing his time between the trombone and piano, playing in a variety of ensembles and genres, in churches and pubs, and everywhere in between. He has traveled the world playing music, from the Montreux Jazz festival in Switzerland to the Global Samaritans Orphanage in Zambia, Africa, and even to the edge of the earth in New Zealand, as well as touring all over the United States.
Currently, Kevin lives in the Atlanta area where he continues to develop his talents, both as a musician and a teacher. He performs regularly with world renowned musical acts such as the Joe Gransden Big Band, the Rupert's Orchestra, and Widespread Panic. He has also won a Grammy award for his participation in the award winning album, "Already Free" by the Derek Trucks Band. Kevin also volunteers at a respite program for Alzheimer's patients, leading weekly sing-a-longs and performing timeless classics from all eras of music.