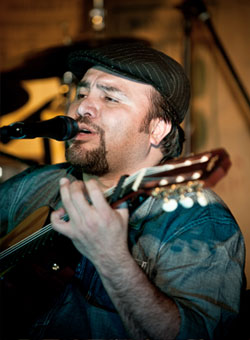 Founder - Classic Guitar - Lead Vocal (Ecuador)
Willie Ziavino, Born in Guayaquil, Ecuador, began writing songs since he was 14 years old, based on personal experiences and stories ripped from the street.
In 1991 he moved to Havana, Cuba, this experience gave birth to his romance with Cuban rhythms and reinforced his love for Trova.
In 1999 he was invited to participate in a songwriting nationwide competition organized by a radio station in Quito, Ecuador taking first place with his song "Confesiones".
In 2000 he recorded his first album "WILLIE ZIAVINO" with 12 songs of his own authorship and arrangements of Julio Bueno and Rolando Valladares, few months later he moved to Atlanta, Georgia.
Upon his arrival he started to work in his engineering career but never stopping to compose and play his guitar.
In 2009 released his second album "MARU" with a compilation of songs from the first CD and new songs with the arrangements of Omar Herrera (Uruguay).
In 2010 he began recording his album "CAMINO EMPEDRADO" with the help of the brazilian producer/musician Rafael Pereira. The album was released in April 2011.