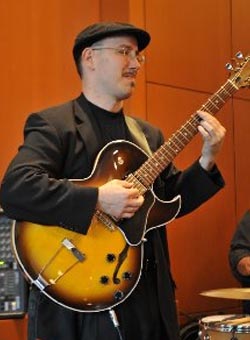 Electric Guitar (Detroit, USA)
Detroit born Guitarist/Composer Dan Baraszu started playing guitar at the age of 9.
When he first heard the genius of Jazz guitarist Wes Montgomery, Dan devoted himself to becoming a die-hard Jazz artist.
Dan received his Bachelors degree from the renowned Berklee College of Music, where he majored in Jazz Composition and Arranging, and also received his Masters degree from the University of Miami with a major in Jazz Pedagogy.
He currently resides in the Atlanta area where he teaches Jazz Guitar at Emory University and leads his own groups as well as freelance guitar work.
Dan Baraszu has released four CD's with Blue Canoe Records.
The most recent being in collaboration with Hammond B3 extraordinaire David Ellington entitled "Organ Trio".
Dan joined the C.O.T. Band on July 2016.