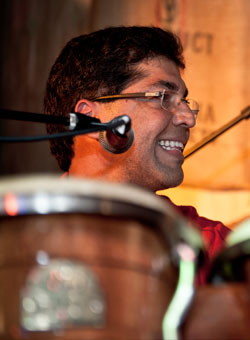 Co-founder - Percussion - Lead Vocal (Panama)
Juan Bonini was born in Panama and moved to Rio de Janeiro, Brazil when he was 19. He started his musical career in the late 80's playing salsa and Brazilian rhythms in different latin bands.
He performed as a singer and percussionist in bands such as: ESENCIA LATINA, MAMBO QUE SAMBO and RIOSALSA.
As a member of MAMBO QUE SAMBO he recorded two CD's. In 1988 the band was invited to an international tour of Taiwan where SONY MUSIC released a cd "ICRT Latin Fantasy" featuring MAMBO QUE SAMBO and international artists, Ricky Martin, Gloria Stefan, Santana and others.
Still in Rio de Janeiro and as the lead singer of RIOSALSA in 1995 he recorded another cd. The hit song "Mezcla" was part of the soundtrack od the soap opera "Salsa e Merengue".
As a percussionist he performed in several Flamenco dancing groups, such as the Ballet of the Spanish Dance School in Rio de Janeiro, Quadra Flamenca and Toca Madera, just to mention a few.
In 1994 he played in the play "CARMEN" at the Delfin Theater in Rio. In 19999 Juan was invited to play a track in the album of the group RAGA.
Juan moved to Atlanta in December of 1999 and joined the band Rua 6 in April of 2000. In 2010 formed the C.O.T. Band along with Willie Ziavino.