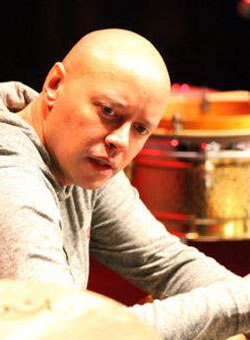 Drums, Percussion, Vocals (Puerto Rico)
Jose "BamBam" Ramirez started his education in Classical Percussion at the age of 8 years old at "La Escuela Libre de Musica" in Caguas Puerto Rico under the Supervision of Maestro Jose "Pepe" Torres.
His first debut was at the age of 11 with the Puerto Rico Symphony Orchestra, which started him on an exciting musical career. At the age of 15 he started playing as a drummer with Richie Ray and Bobby Cruz.
He also worked under the supervision of Alexis Trinta at the Department of Culture in the City of Caguas in Puerto Rico playing folkloric music in concerts and educative events. He also accompanied internationally renowned classical musicians and Operas while continuing his education at the "Conservatorio de Musica de Puerto Rico.
He moved to Boston, MA, where played with Bands such as; Mango Blue, La Timba Loca, and DLG. Worked closely with Professors from Berklee College of Music, and great musicians such as; Oscar Stagnaro, Ernesto Diaz, Victor Mendoza, John Ramsey, Gonzalo Grau, Fausto Cuevas, Miguel Zenon, Antonio Sanchez, and Ruben Rodriguez among others.
Jose "Bam-Bam" Ramirez currently lives in Atlanta, GA working with Willie Ziavino and The C.O.T. Band. Jose "Bam-Bam" Ramirez has served as a great example as a musician, and has earned respect in the industry because of his versatility as a percussionist and drummer in the categories of Classic, Popular, Jazz, Rock, Gospel, Salsa, and Brazilian Music.